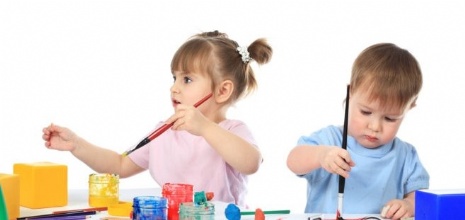 Philosophy
The Bel Air Preschool is a place where young children discover creative and nurturing experiences. Our Preschool fosters a life-long quest and love for learning, building a strong foundation for social, emotional, academic, physical and spiritual growth. 
We offer small classes with low student to teacher ratios in an atmosphere stimulating multiple intelligences. Our educators are specialists in early childhood development.
Our classrooms are our "third teachers". Everything in them provides an opportunity for learning and growing. They are large, bright, warm and natural.  Our preschool is equipped with state-of-the-art learning materials, resource guides, and children's library filled with beautiful books. We have interactive outdoor equipment where children can climb, slide, imagine and socialize. We bring our indoor classroom outside so that our children can enjoy reading, art and building all while being inspired by our sunny California weather.  
Every child is unique, with his/her own interests and learning styles. We provide our children the space and opportunity to interact and play in a meaningful environment.   We are a place where children can construct new ideas and discover the world around them. They are inspired to think, reason, question and experiment through play and hands-on activities.
The curriculum is designe to combine learning through self-discovery and teacher guidance. This encourages children to gain confidence and experience cooperative relationships with both peers and adults, all in an atmosphere of inspiration and growth filled with joy, laughter, traditional Jewish values, and developmental and academic excellence.
Social relationships are crucial in so many areas of life, and a positive preschool experience is one of the most important keys to a child's future success in connecting with other people. Children are born intrinsically social and we want to be right there to help them navigate social experiences and gain social skills.   Teachers encourage children to use words to express themselves, model how to resolve conflicts, and facilitate the development of empathy and concern for others. 
We believe that the most important goals of our school is to enhance our children's self esteem, to respect each child as an individual, to foster social-emotional growth, to create a sense of community and family, to appreciate the beauty of our heritage and traditions, and for our children to be stimulated and inspired to construct their own knowledge and "own" their daily experiences.